Articles

| Apr 11, 2022
Happy National Pet Day!
Celebrating the Pets of our Global Communications Team
At Entec, a Ravago Company, plastic shares a special place in our heart with all of our furry, feathered and scaly friends! What would a family company like Ravago, and the "Communications Team", be without showing love and support for our family pets around the globe in celebration of National Pet Day!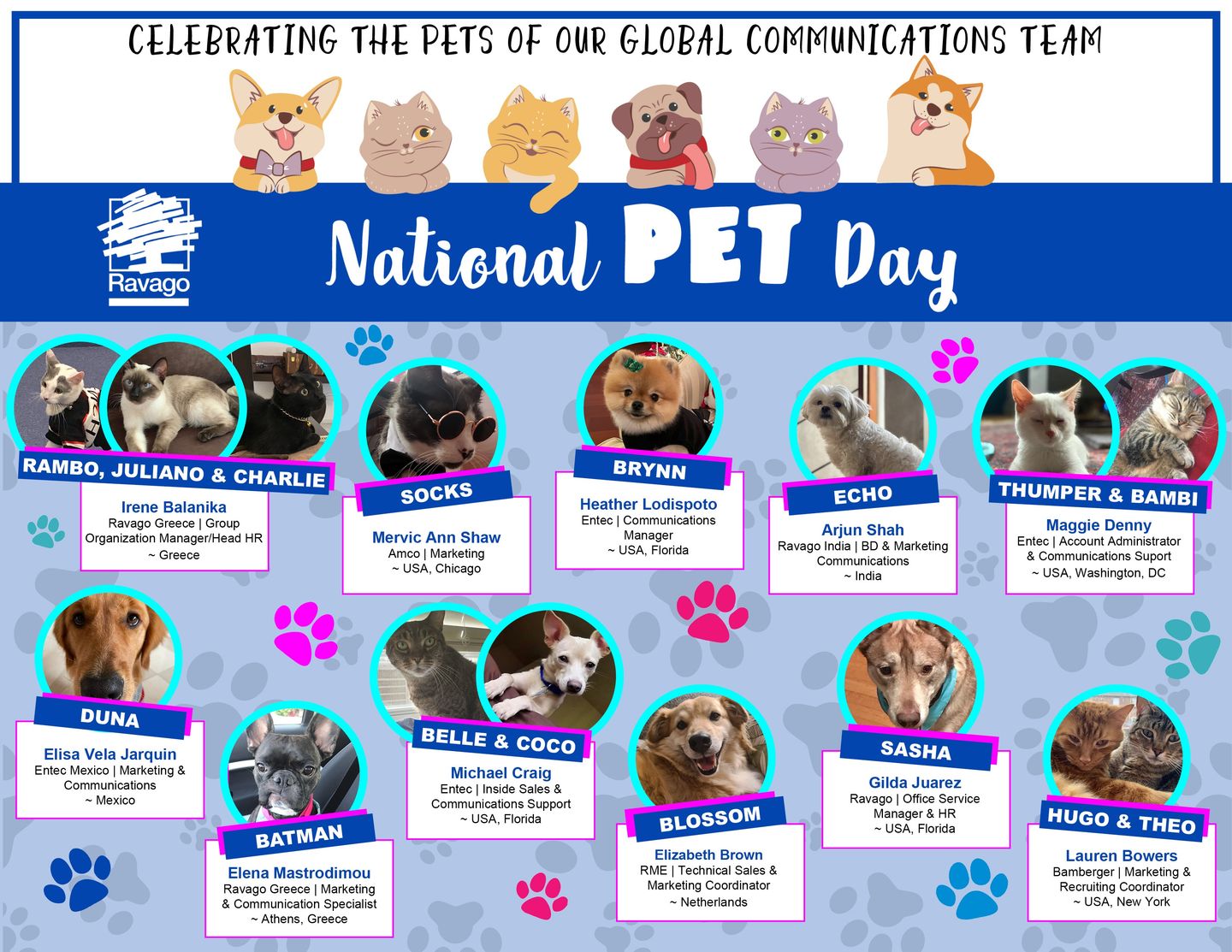 What Is National Pet Day?
The purpose of National Pet Day is to celebrate our pets, of course! This might sound simple at first, but the power of this holiday runs as deep as our love for our animals. As pet parents, we're so lucky to have the joy, comfort, support, and connection that our pets bring to our lives. They cheer us up when we're feeling down, keep our minds and bodies healthy, and give us a reason to get out of bed in the morning. (Hey, our dogs aren't going to walk themselves!)
That's why, ever since the first National Pet Day in 2006, animal lovers across the world have spent the holiday honoring their furry, feathered, or scaly loved ones. It's the least we can do, right? And that mission extends to pets who haven't found their forever homes yet: the pets in shelters and rescues waiting to be adopted. When we tell our friends and family members about all the great things that our own pets bring to our lives, we're encouraging them to open their home to a pet in need, too. Think of it as the ultimate National Pet Day present.
How to Celebrate National Pet Day
When it comes to National Pet Day, there's no wrong way to celebrate! Take inspiration from the ideas below.
1. National Pet Day Images
The easiest way to honor your pet on National Pet Day is also guaranteed to earn you lots of "likes" as well: Post a pic of your pet on social! There's no better way to get a double-tap from your friends and family, and each photo helps amplify the National Pet Day message of support for pets both in forever homes and at shelters and rescues. #NationalPetDay
2. Adopt a Pet From Your Local Shelter

All pets deserve extra love on National Pet Day—and that includes pets still waiting to be adopted. So why not show your commitment by giving a warm, loving, forever home to your new-found furry, feathered, or scaly best friend!

3. Support a Shelter or Rescue
It is easier than you'd think to support the shelters and rescues who care for homeless pets in your community. Donating supplies such as blankets, food, toys and more to your local animal welfare organization will help pets waiting to be adopted feel more comfortable and cared for.
That's just one of many ways you can help shelters and rescues on National Pet Day. Have you considered fostering a pet, volunteering at a local shelter, or volunteering to walk dogs? Even simply resharing a shelter's social media post about an adoptable pet can improve that pet's chances of adoption.

4. Support an Animal in Your Community
Assist an ill, elderly or a financially struggling neighbor or friend by purchasing pet food and needed items for their pets, or by volunteering to walk or help care for their pet.
5. Have Fun With Your Pet
As fun as furry photoshoots might be for us pet parents, our pets would probably prefer some quality time with their favorite humans. So, carve out some time on our calendar for a new adventure or dedicated playtime this National Pet Day.
6. Have a National Pet Day Party & Celebrate All Your Pets!
Give your pet a party and invite your friends and their pets to join the fun too!
The majority of the information above is provided by Chewy. To get additional information view Chewy's full article https://be.chewy.com/happy-national-pet-day-heres-how-to-join-the-celebration/