Celanese Corporation is a global technology leader in the production of specialty materials and chemical products which are used in most major industries and consumer applications.
THE POWER OF PERFORMANCE DRIVEN SOLUTIONS™
Celanese is a leading global supplier of high-performance engineering polymers designed to drive growth and innovation across all industries. We focus the full power of our development support services, advanced products and deep technical knowledge on the success of our customers, helping redefine the limits of material performance in the most demanding applications. Free yourself to innovate with the many advantages of thermoplastics:
Experience the Advantages of Performance Driven Solutions™
Reduce system costs
Lightweight strength
Dimensional stability
Impact resistance
Low friction and wear
Excellent electrical properties
Low moisture absorption
Tough durabilit
Chemical, corrosion and temperature resistance
UV stability
Parts consolidation
Built-in aesthetics
Fewer secondary operations
Ease of processing
Design flexibility
Environmental and safety compliance
Advancing Material Technologies
Our products are industry leaders in acetal polymers, liquid crystal polymers, long fiber reinforced thermoplastics, and ultrahigh molecular weight polyethylene and include:

Celanex® thermoplastic polyester (PBT)
Hostaform® and Celcon® acetal copolymer (POM)
Celstran®, Compel® and Factor® long fiber reinforced thermoplastic (LFRT)
Celstran® continuous fiber reinforced thermoplastic (CFR-TP)
Fortron® polyphenylene sulfide (PPS)
GUR® ultra-high molecular weight polyethylene (UHMW-PE)
Impet® thermoplastic polyester (PET)
Thermx® polycyclohexylene-dimethylene terephthalate (PCT)
Vandar® thermoplastic polyester alloy (PBT)
Vectra® and Zenite® liquid crystal polymers (LCP)
Engineered Materials Portfolio Brochure
Download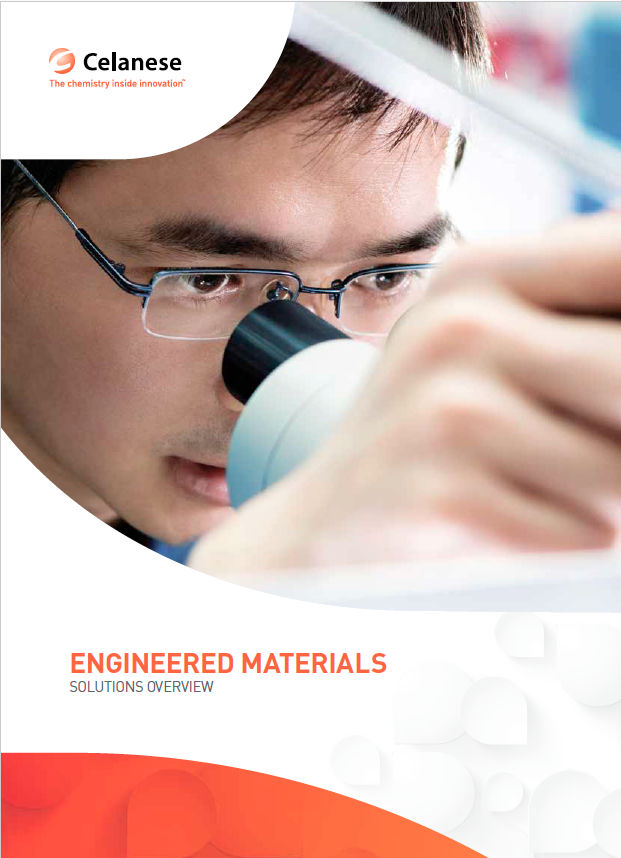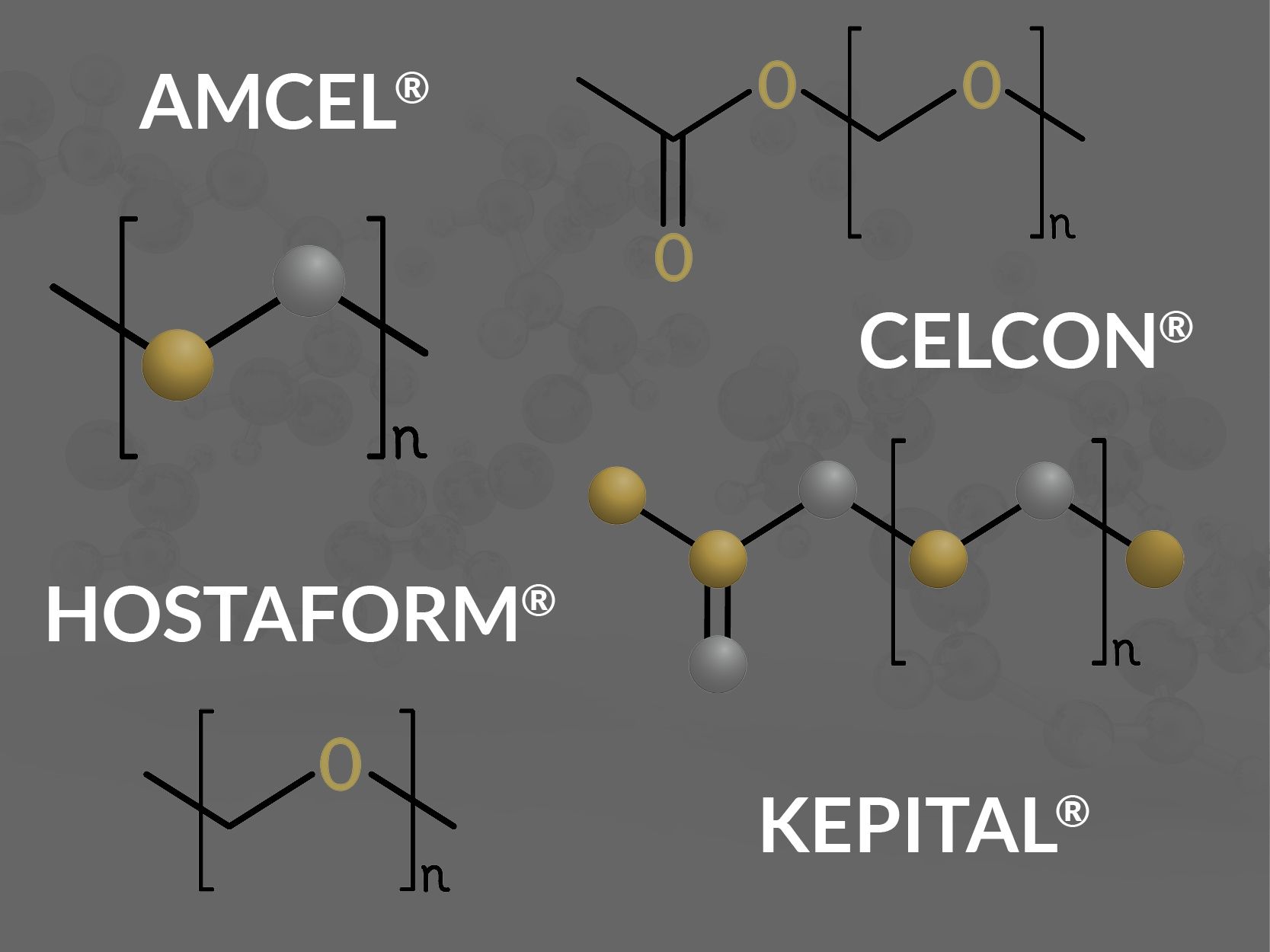 Polyoxymethylene (POM) Product Offerings
Welcome to the world of Polyoxymethylene (POM), a remarkable engineering polymer renowned for its outstanding properties and versatile applications. Commonly known as acetal, POM offers exceptional mechanical strength, low friction, and excellent dimensional stability, making it a top choice in various industries. From automotive components and consumer electronics to engineering parts and beyond, POM's unique combination of properties enables the creation of high-performance solutions. Join us as we delve into the fascinating characteristics and diverse applications of Polyoxymethylene, an essential material driving innovation across the globe.
Discover the remarkable performance and versatility of Celanese Polyoxymethylene (POM) Product Offerings - engineered to elevate your projects and bring innovation to life!

THERMOPLASTIC INNOVATIONS DRIVING FUTURE MOBILITY
The future of the automotive industry is driven by developments in autonomous and connected vehicles, and electric vehicles are dramatically changing automotive engineering and associated charging technology. The merger of the E&E industry with the Automotive industry involves a wide range of new requirements for engineering thermoplastics.
Celanese offers OEMs and suppliers a broad portfolio of engineered materials to successfully navigate the powertrain transition with unique material solutions meeting a wide range of needs. Our materials provide flame retardancy, electrical and thermal properties and sustainability and recycled materials. Our extensive experience in the automotive industry enables us to translate our knowledge from E&E to develop innovative solutions for future mobility.
INNOVATION AT CELANESE
Celanese focuses on innovation that breaths new light into their offerings. They create fresh solutions, find new uses for mature products and improve processes for proven workflows. Accomplishing this through Strategic Translation a focus on bringing differentiated solutions and capabilities to their customers.

NEW INNOVATIONS FOR WEARABLE PUMPS
Overall growth in biological drugs and in large volume (>2 ml) therapy biopharma products, reduction of injection frequency, increase in patients comfort, cost containment pressure and connectivity being integrated into healthcare are accelerating medical innovation in the wearable devices space.
Celanese portfolio of engineered materials for large volume wearable pumps includes Vectra® MT® LCP for design and production efficiencies in internal chassis, and Hostaform® MT® SlideX® POM for enhanced patient experience when used in internal components.
Vectra® MT® LCP is a higher flow medical grade of LCP that enables medical device designers to develop thinner-walled, more complex, reduced-weight chassis and to accelerate production cycle times – lighter-weight for patients, more flexibility for internal components for design houses, and reduced per part cost for OEMs/molders.
Hostaform® MT® SlideX® POM & Celanex® MT® SlideX® PBT are excellent performing medical grades with tribological modifier for exceptionally low wear & friction and no noise - simplifying, for medical device designers, material combination decisions across complex device components improving end-user experience and avoiding external lubrication in manufacturing processes.
Celanese MT® service package ensures industry-leading regulatory support to reduce risks during regulatory approval processes and provides for secure and consistent high quality material supply throughout product life-cycle (change notification).
Download our solution showcase to explore how Celanese is creating customer value in the inhalers space.

INNOVATIONS IN AUTOMOTIVE INTERIOR TRIM
MetaLX® appearance polymers enable automotive interior visual unity while delivering cost savings and manufacturing efficiencies over painted or chrome-plated metallic appearance parts. Celanese provides outstanding technical support across the value chain from early in development through commercialization to achieve success in in applications like door and console trim, steering wheel bezels and release handles.
Computer-aided engineering (CAE) tool, part, and prototype design knowledge supported by processing insights and field technical services support to meet surface quality expectations.
Color matching capabilities to ensure interior cabin aesthetic harmony.
Download our solution showcase to learn more about our material differentiation including:
Attractive value creation and improved environmental profile through elimination of painting or plating process steps.
Excellent resistance to UV, scratch and mar, and consumer chemicals like lotions.

NEW INNOVATIONS IN COMPACT CAMERA MODULES
Premium mobile phones are adding new, advanced imaging features – higher resolutions, augmented reality, 3D sensing – which require new multi-lens / array Compact Camera Modules and Voice Coil Motor-driven auto-focus and image stabilization.
For mobile devices, Zenite® LCP SEA grades are specialized solutions that offer production efficiencies in the manufacturing of camera modules (CCMs) and associated components (e.g., VCM carrier, spacer, base).
Our solution showcase will provide more context and case studies on our solution differentiation in the following applications:
Zenite® LCP SEA grades offer higher flow, superior dimensional stability, higher weldline strength, lower particle generation and better adhesion in assembly.
Additional product capabilities include – antistatic functionalization to further reduce dust in assembly, laser-direct structuring (LDS) grades for lower profiles, and thermally conductive (TC) grades for heat management.

INNOVATIONS FOR AUTOMOTIVE ENGINE COMPARTMENT COVERS
Shifting from metal to plastic creates more opportunities for automakers than just reducing weight. Recycled polyamide compounds from Celanese enable manufacturers achieve their recyclability goals while meeting performance requirements for applications previously using prime PA.
Applications for the automotive industry need to fulfill challenging requirement to meet mandatory specifications. Automotive engine compartment parts using recycled grades could provide functional benefits like heat and chemical sealing and even aesthetic benefits for engine beauty covers.
Ecomid® PA recycled grades are part of a broad portfolio of polymers for use under high temperature and chemical conditions.
Download our solution showcase leaflets to learn more about our material differentiation.

INNOVATIONS IN BLDC MOTORS
Future mobility concepts demand to implement an increased number of e-motors to improve comfort and efficiency levels of modern cars. Materials used in under-the-hood applications need to withstand challenging conditions – no compromises allowed in terms of safety, quality and service life. Celanese provides high performance polymers to provide higher efficiency even in smaller motors that allow manufacturers to reduce cost and weight.
Fortron® PPS and Vectra® and Zenite® LCP grades are part of a broad portfolio of polymers for use under very high temperature and chemical conditions.
Download our solution showcase to learn more about our material differentiation including:
Insulation for smaller e-motors – thin wall technology with Vectra® and Zenite® LCP for service temperatures up to 240°C
Components in mild-hybrid solutions – stator insulation and wire guiderail components made of Fortron® PPS

NEW INNOVATIONS FOR MEDICAL INHALERS
Inhalers are complex, functional, highly differentiated devices. Celanese long track record in medical inhalers helps OEMs, molders and design houses develop and launch next generation devices.
Celanese offers multiple solutions to address critical needs across all medical inhaler types and their components, improving patient experience & device usability and helping deliver effective & efficient treatment:
Hostaform® MT® POM and Celanex® MT® PBT for precision molding of mechanical strong and durable components with excellent tribological properties.
Hostaform® MT® SlideX® POM for excellent low stick-slip performance from first actuation without need for external lubrication.
Vectra® MT® LCP and Fortron® MT® PPS for excellent moldability of thin parts with superior mechanical strength.
Hostaform® MT® POM colors and Celanex® MT® PBT laser markable grades for a decrease in manufacturing chain complexity and an improved risk-profile versus customer-made compounds.
Celanese MT® service package ensures industry-leading regulatory support to reduce risks during regulatory approval processes and provides for secure and consistent high quality material supply throughout product life-cycle.
Download our solution showcase to explore how Celanese is creating customer value in the inhalers space.

NEW INNOVATIONS FOR APPLIANCE APPEARANCE
Celanese delivers customer value through material innovations for appearance and haptics in large and small appliances. By leveraging our broad portfolio of engineered material solutions, beautiful surface finishes are achieved while also producing excellent mechanical performance.
Celanese's portfolio of engineered material solutions address needs in large and small appliance appearance:
Hostaform® POM includes superior chemical resistance and excellent color for dishwasher clips for adjusters and baskets.
MetaLX® POM includes custom colors & high temperature resistance for oven handles.
Celanex® PBT includes laser markable, custom color match for outstanding. aesthetics with high temperature resistance in oven knobs.
Frianyl® Nylon includes custom color matching for outstanding aesthetics with high heat stability for electric grill housing.

NEW INNOVATIONS FOR SOFT TOUCH RAZORS
Celanese has a long track record as a material supplier for the personal care industry with a broad portfolio of engineered thermoplastics, thermoplastic elastomers and customer enabling capabilities to solve customer challenges in the Soft Touch Razors and Shavers marketplace.
Celanese hard & soft material solutions address needs in personal care segment include shavers and razor sub-segment:
Laprene® TPE-S and Forprene® TPV for soft touch overmolded handle grips with haptic tuneability – workhorse + custom grades
Hostaform® POM include toughened, tribo & high stiffness/strength grades for shave bar, cartridge carrier, swing bridge, chassis
MetaLX® POM including custom colors & lasermarkable grades for razor handle (vs metal, metallized)
Celanex® PBT for razor/shave housings; Vectra® LCP for thin wall shimmer trimmer guard assembly

CIRCULAR ECONOMY BRINGS CUSTOMER VALUE AND SUSTAINABILITY
At Celanese, we strive to create opportunities in which we can offer products and applications that maximize the value of our resources. Through our advancements in circular economy, we are able to renew and restore materials at all phases of a products life cycle. This in turn creates value for our customers while reducing waste and environmental impact.
Our key focus areas:
Bio-based – products that contain commercial or industrial goods that are made of all or partial biological products, forestry materials, or renewable domestic agricultural materials, including plant, animal, or marine materials.
Recycled Content – products which are post-industrial or post-consumer that contain recycled content while still maintaining the quality, consistency and performance of the material.
End-of-Life – products that can be restored and reused from the waste stage of life and turned into new materials and products.
These areas of focus prevent the disposal of valuable materials and reduces the amount of new raw materials used in our environment, decreasing the amount of energy usage and pollution. Discover how Celanese can bring value while meeting these important environmental standards.
Related Product & Tech Guides